We not only talked a lot of baseball, but we helped a great cause: Public EducationFoundation of Evansville. Thanks to all!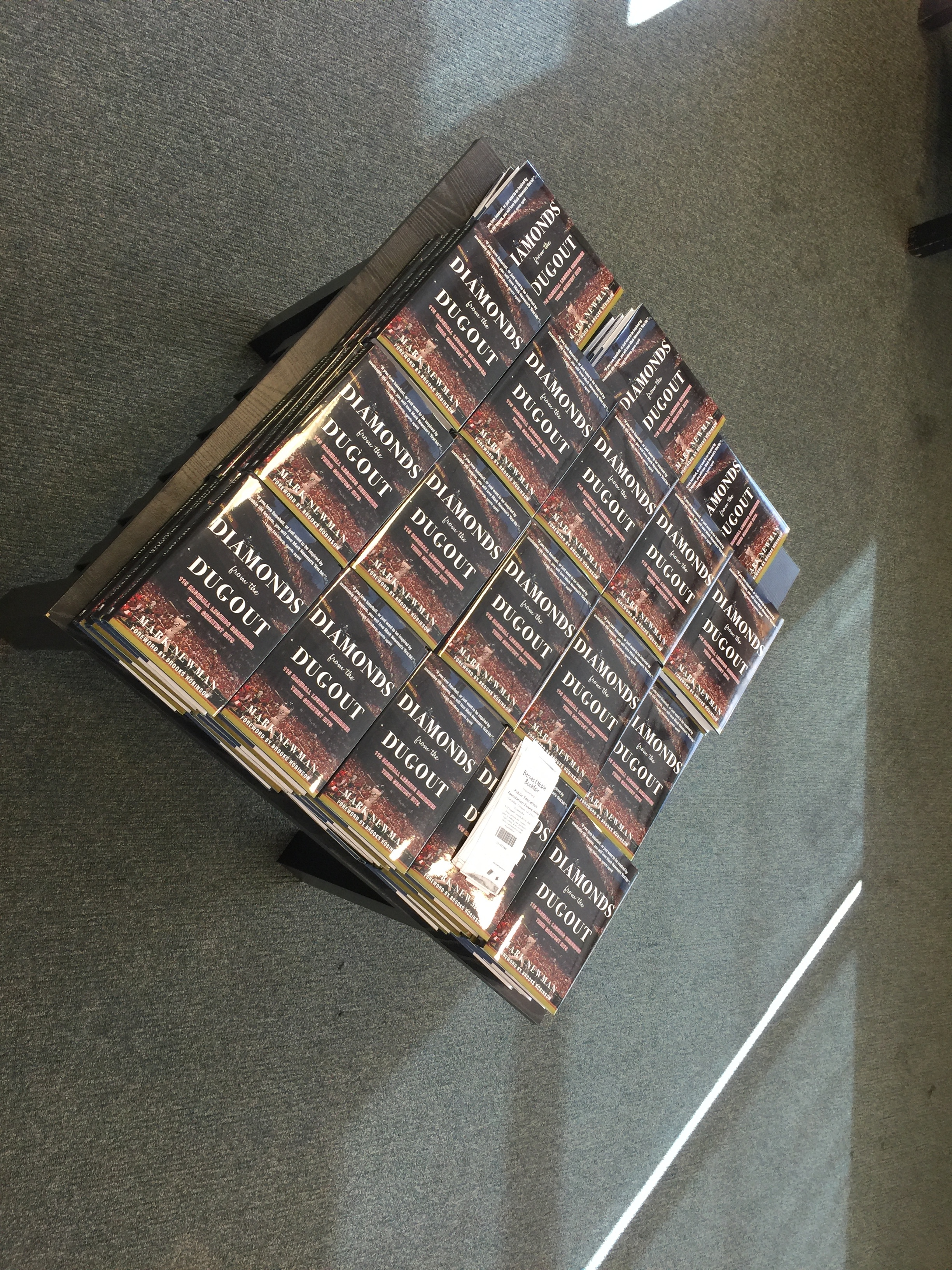 Signed nearly 100 of these. Look for yours at your local Barnes & Noble. If it's not there yet, please ask a BN staffer to order copies! Thanks!
This is what I saw when I took the escalator upstairs the morning of the book signing at the Evansville Barnes & Noble. Thanks, Mariana! You are amazing!
Standing Room Only at the Evansville Barnes & Noble. The man in the pink shirt is a very special guest, by the way: My Evansville Central High School Journalism teacher, Edwin Cole. One of the all-time greats! So nice to see him and his wife Sharon!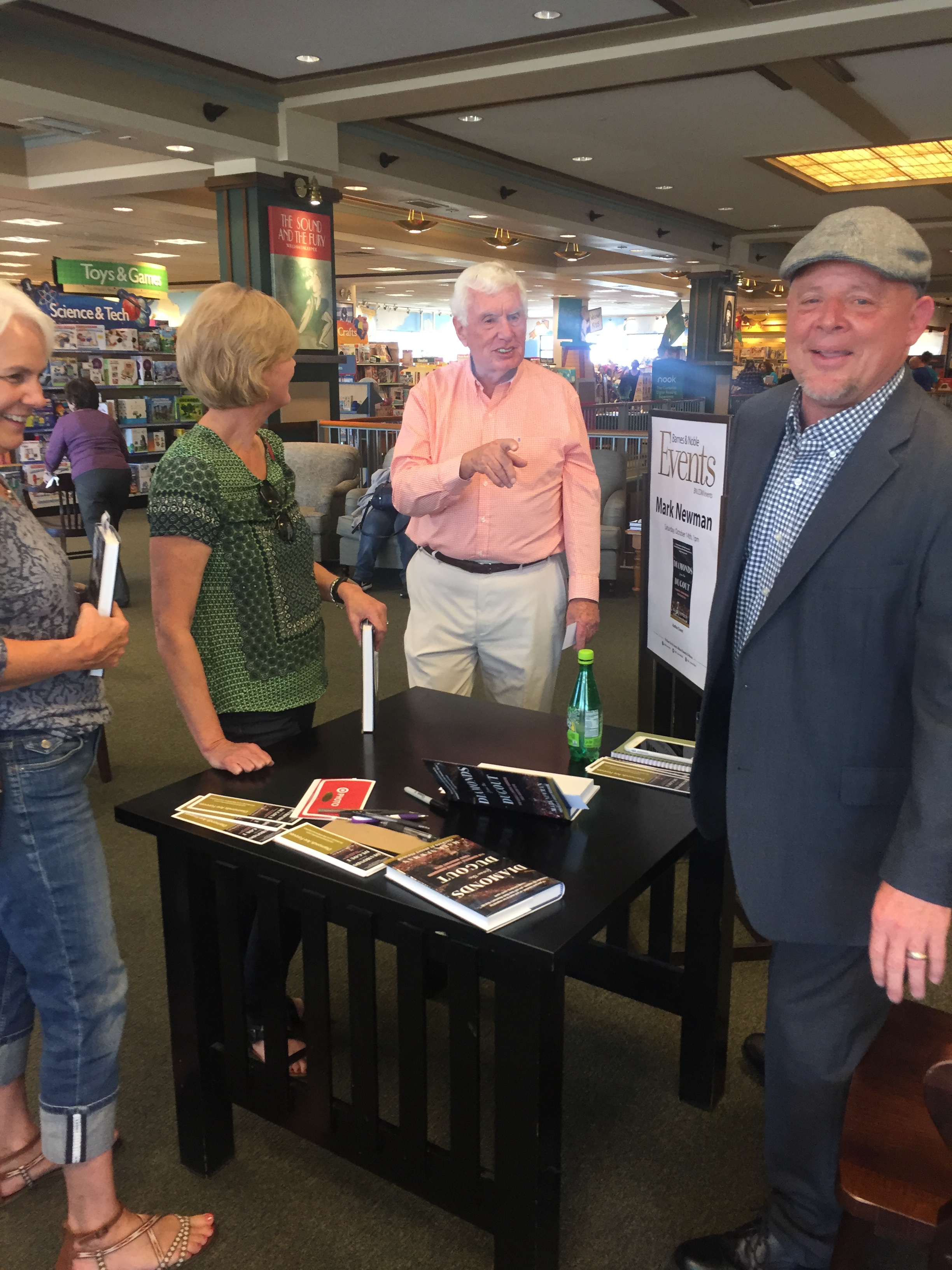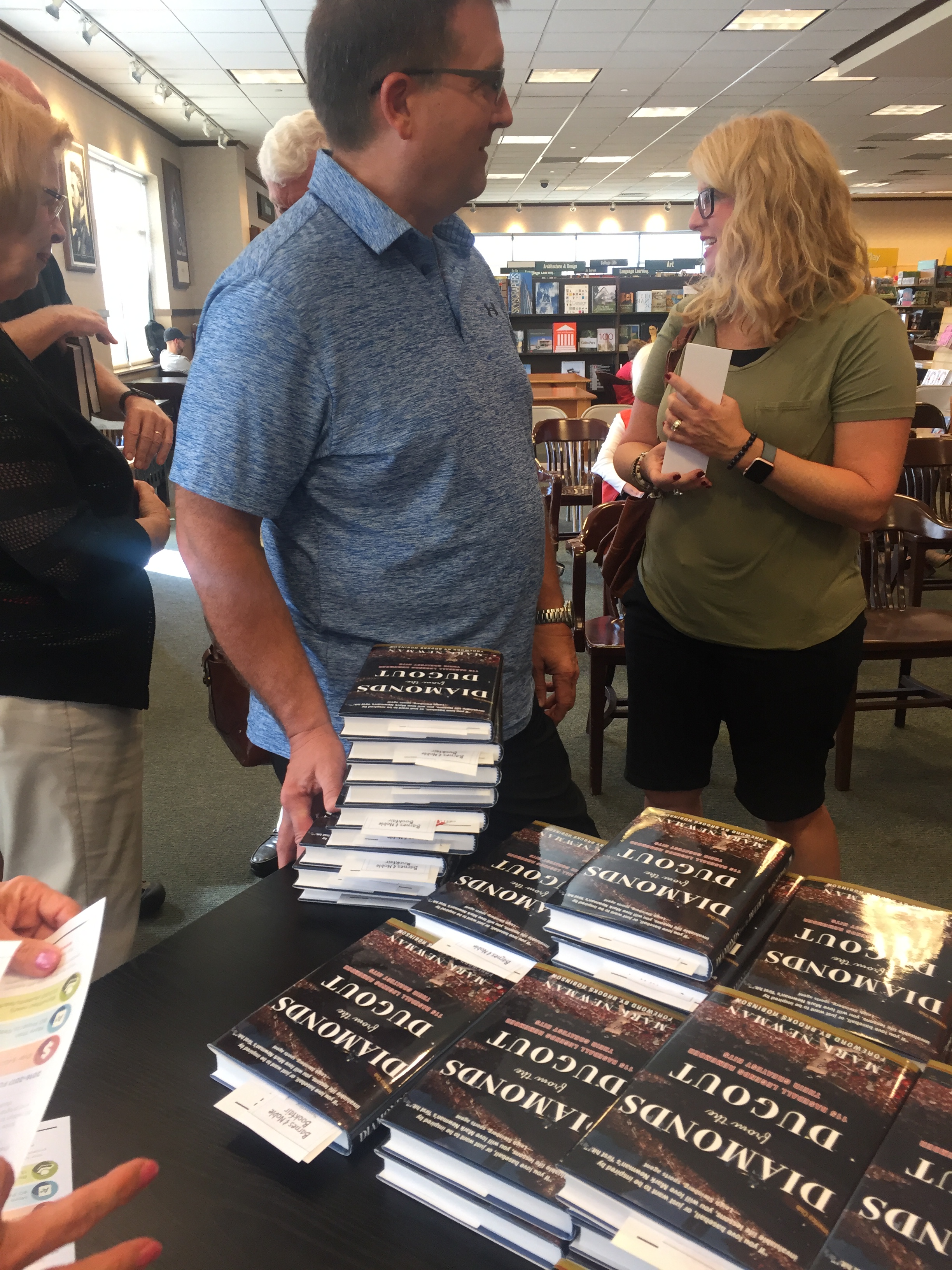 Thanks to Leanne and Randy Mauer for handing me SEVEN books to sign! It was nice to personalize every one of them. Her own copy has my old Whiffle ball lineup on the title page -- 9 lines each reading "Rod Carew".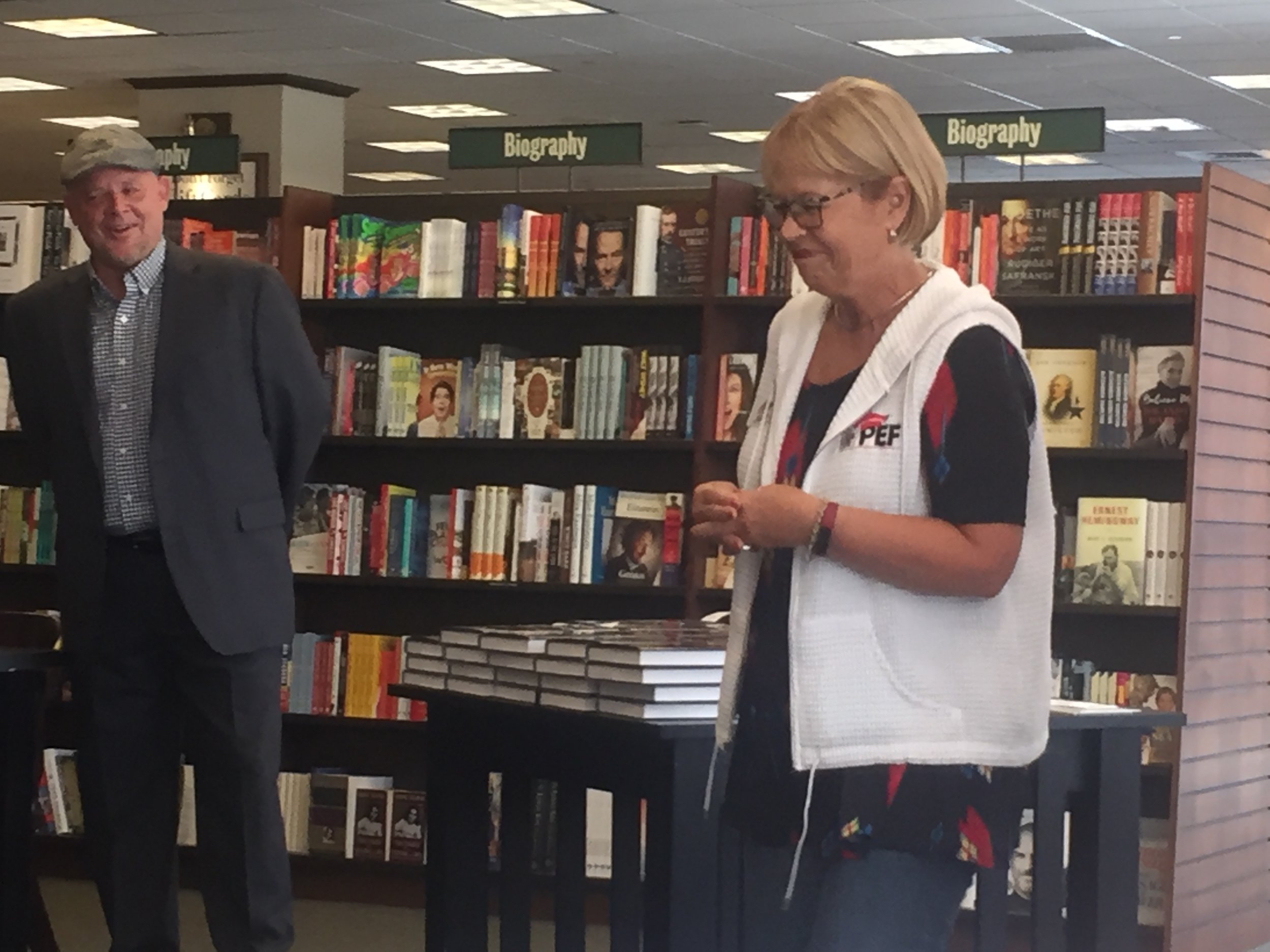 Amy Walker, Executive Director of Public Education Foundation of Evansville, graciously spoke to our audience about PEF's mission. It was so nice to help a great cause.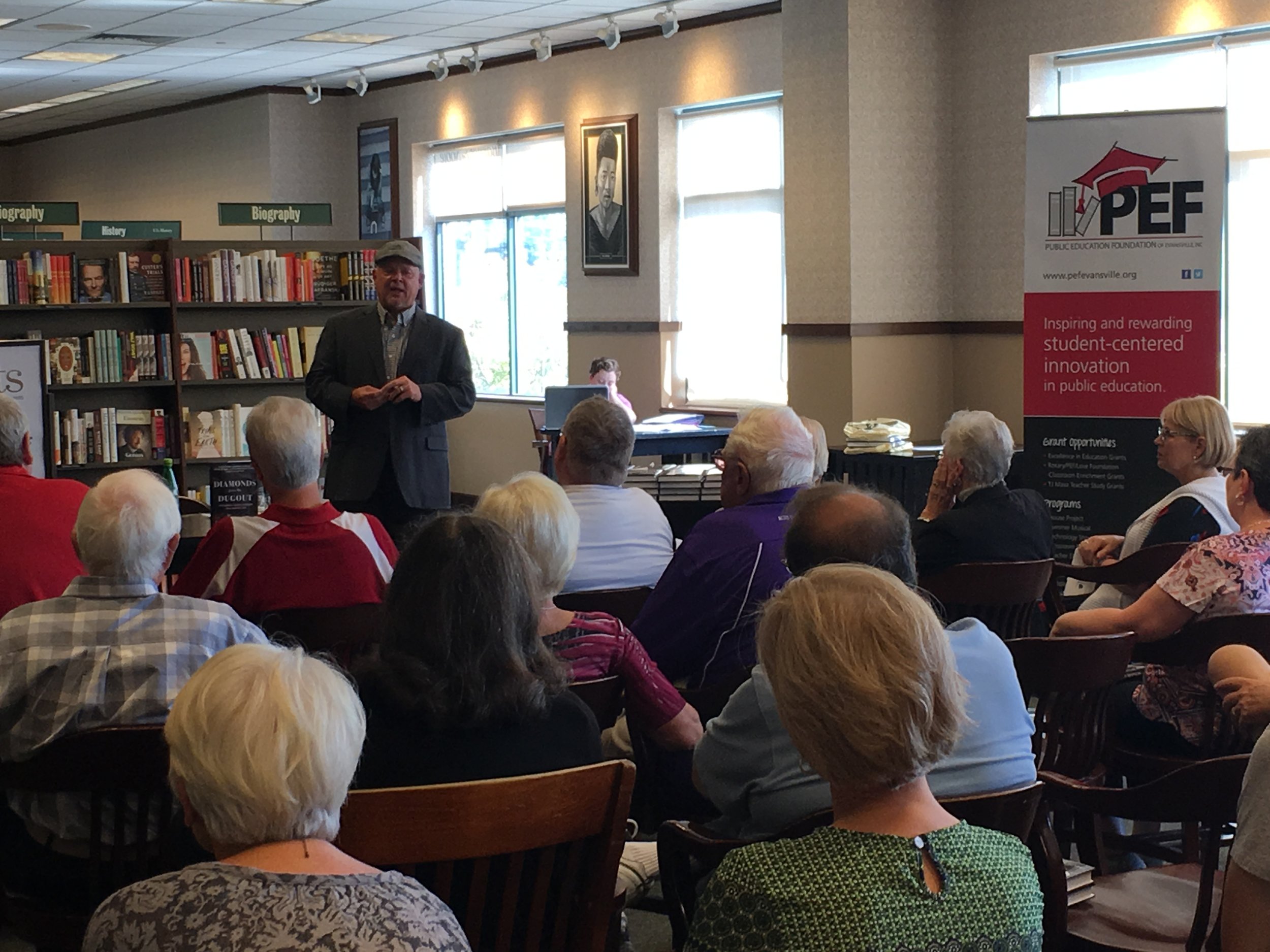 The audience member to the right? Oh, just my 100-YEAR-OLD Grandpa, Woody Groomer, a WWII vet. So happy to introduce him to everyone. He danced the night before at the local Owls club.
Thanks to my wonderful wife Lisa for her support throughout the decade it took to bring DIAMONDS FROM THE DUGOUT to baseball fans.
Thanks to a standing-room-only crowd that came out to Barnes & Noble in Evansville on Saturday for a fantastic book launch event! We teamed up to raise funds for Public Education Foundation of Evansville, and I am especially thankful to PEF Executive Director Amy Walker for speaking to the audience about PEF's mission, and to Kathy Singer of PEF and Mariana of Barnes & Noble for organizing such a beautiful and memorable afternoon. Here's a slideshow of the afternoon!

One takeaway: People are buying DIAMONDS FROM THE DUGOUT not just as a single copy, but in batches as gifts for so many people from all walks who love baseball, no matter what your team or town.

We're off and running! Looking forward to many more book signings and readings to come! Please be sure to LIKE the official Facebook page for our book at facebook.com/MarkNewmanAuthor! Ask your local Barnes & Noble if they have the book yet, and please leave a review if you order it online, as that will help us appear in search results. Thanks!